People ask me if I love my job. To me, this is a no brainer. Simply put, Yes. It is more than love. I am beyond passionate about what I do for a multitude of reasons. People say, "You are so lucky to be doing what you love." It is more than luck, I feel beyond blessed to be doing what I do on a daily basis and as a career. I wish there was a way to place into words how my heart feels about what I do every day. I get invited into the lives of strangers. These strangers become my friends, and often times, more like family. I guess this tends to happen when you are side by side with someone on the most important, monumental, and sentimental days of their lives. On a wedding day, I am there from the moment the mother sheds her first tears as she sees her daughter slip on that white dress all the way until toasts are said, first dance is danced, and every emotional moment in between. There are so many moments that the bride and groom do not even see happening. They are moments like the look he gives her when he thinks no one is watching. It is the moment they first announce the couple as Mr. and Mrs. Smith, and she giggles and looks over at her new husband. I am there with my BirthStory moms and dads the moment they hear their child take it's first breath. My sister and I both feel the same way about this, it does not matter what time of day it is (yes, I have received labor and delivery calls at 2 in the morning), once I get that call, there is this adrenaline rush like no other that comes over my body. I get to capture the most important moments in a person's life. I get to document the story of their family. How did I get so lucky? Really. The most intimate moment between couples, they want me there? It is still awing to me when I sit back and think about it. For as long as I can remember, I have loved people. I love meeting strangers, making friends, finding out about their life, and watching people....oh how I love to people watch. My love for people shows through in my career. I make a connection with my clients, because I care. I care how their day goes, I care about their happiness, and I care about their memories that I am seeing happen right before my eyes. Their father daughter dances, wedding vows, the moment they look into their baby's eyes, and plenty of other moments have been known to make me tear up. Thank goodness I have the block my face with the camera move down pact. :)
Aside from those big moments in peoples lives, I also get to capture the smaller ones. Moments like family pictures, engagement pictures, vacation pictures, bands, events, and whatever else I feel like. In May of 2008, I met a man who I never knew would change my life. That is one of the things I love about life, the unknown. His name is Roger Morse. He was an amazing father, husband and friend. Comedian is an understatement. He changed peoples lives. He saw the good and potential in others when they did not know how to believe in themselves. When it came to networking, he was the King of that castle. He knew everyone, everyone knew him, and he would find anyway to get this person connected with that person. Throughout the past two years, I have shot his band more than a handful of times at different locations with my friend, Adam. I spent a weekend at Table Rock learning how to Slalom ski with him giving me pointers the entire time. I spent evenings drinking wine with him and his beautiful wife, Leslie. So many laughs were had, inside jokes were made, and memories. All of these seemed like those smaller moments I was talking about. Not so much small, but I guess more like simple moments. Everyday types of moments. These were moments that I happened to have my camera around (imagine that) and captured us having fun. At the time, I never knew how thankful I would be to have them later on.
The first day I met Roger. The looks say it all. :)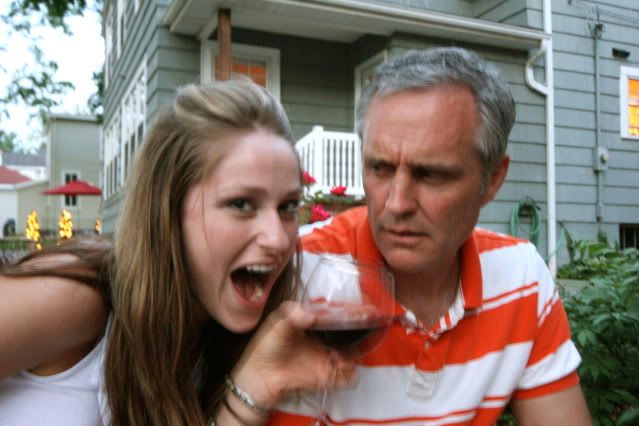 I had a trip planned for New York in July. I was leaving for the Big Apple on a Thursday morning, bright and early. I received a call the Sunday night prior to my trip asking me to shoot Roger's band on Tuesday night. Tuesday night was my official "night to pack", so I was hesitant to say yes. As usual, I added even more to my busy schedule, and said yes. I will forever be thankful for this decision. It is one of those moments that make me know everything happens for a reason. I arrived at the outdoor concert and began shooting away. I took all of my pictures, put my camera away, and then went to hang out with Leslie for a bit. Something came over me, and I decided I was going to take some more pics, so I unpacked all of my camera gear, and shot all the way until the end of the encore performance. Yes, the crowd demanded an encore performance at this show. After the show, I packed up my camera gear. I gave Roger a hug goodbye and we made plans to meet up the Tuesday I returned home to go over the pictures.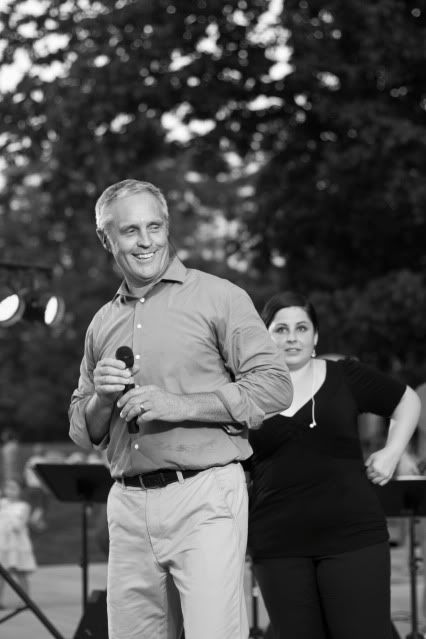 Here is a short video clip and slideshow from that show.
Sunday morning, I received a call as I was walking through the Lower East Side of Manhattan. In one second, my life changed. My heart shattered on East 7th Street as the words that Roger was no longer with us came through the phone. This was way too soon. He was only 49. All I could think of was his girls. His two beautiful, beautiful daughters and his wife and my friend. I asked all of the questions. How? Why? It just did not make sense. I made it home in time for the wake and funeral. I have never seen anything like it. I have been to St. Peter's Church on Christmas Eve (when it is REALLY packed) and let me tell you, Christmas Eve did not have anything on this service. The pews were packed. It was standing room all the way into the lobby. You could take a look around and see the impact that he made in lives of these people. People wanted to be there because he changed them.
After the services, I spent the next week placing together pictures of all of those simple moments captured by myself and Adam, that I never knew would mean so much to have taken. I put together a book for the girls to have. I delivered the album to the girls last week. I can not describe what it felt like to be able to do that for them. It was an honor. We talked, We cried, and we laughed as we shared our memories of Rog. I saw the look in their eyes as they looked through the pictures. These were their memories, and I was the one lucky to enough to capture them. So when someone asks me if I love my job, I think back to moments I will never forget, like the four of us girls gathered in that living room, and I know that every second, minute, and ounce of work I put into my job is more than worth it.
I thank my lucky stars that I had Roger in my life and that I have the girls as well. He showed me how to love to the fullest and live to the fullest. He also showed me that the more love you give to others, the more that love will return to you. Roger inspired me to try and make a difference in the lives of others, in whatever special way I can do that. Whether that is being the loving role model to my niece or capturing the moments in people's lives that their children and families will treasure forever. This is what it all really comes down to.
"People may forget what you say. They may forget what you did, But people never forget how you made them feel." I strive for this because of you, Roger.
HERE is a link to the album that I made for the girls.
At a Halloween party last year....